Brain Host Review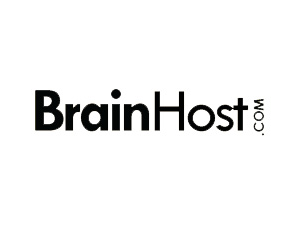 ProsBrainhost has several plans to choose from, phone and email support, cPanel based
ConsPrices are higher than other similar hosts
Bottom LineBrainHost is a well established company with many hosting plans to choose from, their prices are a higher than others.
User reviews
There are no user reviews for this listing.
Hosting Plan Features
Domains in Plan:
Unlimited
Joomla Features
1 Click Installers:

Fantastico:

MySQL Features
MySQL Databases:
Unlimited
phpMyAdmin:

Company Details
Company Headquarters:
Hertfordshire, United Kingdom
First Year in Business:
2010
Notable Features:
Unlimited Disc Space, Bandwidth, Email and Domain Hosting
Phone and email support
50+ 1-Click Script Installs
99% Uptime
Runs cPanel
Company Highlights:
Founded in 2010, Brain Host is a web hosting company that offers shared and dedicated hosting, 24/7 customer support, and an extensive collection of training materials and
resources for website owners.
About Brain Host
Brain Host was founded in 2010 in Ohio by a group of IT and Internet Marketing professionals and currently is run by CEO and President Ryan Niddel. The company currently hosts over 175,000 domains. Brain Host servers are located in Chicago, Illinois and Dallas, Texas.
Brain Host offers a number of web hosting solutions including both shared and dedicated hosting. By November, Brain Host is expanding their hosting base and will additionally offer cloud and VPS hosting. They have received many honors and awards and gives credit to their unmatched customer support, and secure, fast-loading servers.
Plans and Features
Starting at $7.95 per month, Brain Host offers competitive hosting plans that include free marketing credits, free installation and set up and over 50 one-click installs. Brain Host's hosting plans also included unlimited bandwidth, domains, email accounts and disk space.
Hosting Environment
Account management at Brain Host is done through the control panel, cPanel. Through cPanel, you can install applications like Joomla using Fantastico, and manage your files. Though Brain Host offers multiple types of open source content management systems, they are very well-known for their proficiency with Joomla Hosting. Brain Host offers Joomla hosting because it is a user-friendly way to create a website and offers numerous templates.
Tech Support
You can contact their support team by phone, email and a live chat feature available on select pages of their website. You can reach Brain Host's Customer Support team at 1-800-311-9418 or This email address is being protected from spambots. You need JavaScript enabled to view it..
Brain Host is also very active with social media via Twitter and Facebook: