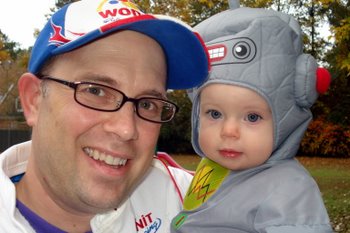 Steven & Robot Baby at her first Halloween.
Joomla Hosting Reviews is me, Steven Johnson and the Joomla users that have left reviews.
The site was created to help our web design clients make the best Joomla hosting choice. Unlike many web design companies we do not offer hosting, we have found it better to focus on designing and developing sites rather than maintain servers and hardware.
I am married, we have two little girls, live in Atlanta, GA, design and develop websites full time, an Atlanta Joomla User Group Sponsors and have been using Joomla since the fork from Mambo.
I provided hosting for several years and got tired of the calls in the middle of the night or questions about how to configure outlook. After reviewing other hosting companies it was clear that many hosting companies could provide a great service at a fair price. That is when I decided to create this site.
Editor reviews are all first hand experiences. You may see notes where the editor review has changed over time. We have seen hosting companies get better and some get worse. We use this information to update our review and rating.
Joomla Hosting Reviews Over time
Joomla Hosting Reviews has grown and evolved over time. The site has had over 10 different looks and probably will have 10 more. The quality of the reviews, both editor and user, remains the same.
We get several questions about why Joomla Hosting Reviews exists, are the reviews independent, and how are we supported. Hopefully the questions and answers below will help you understand more about Joomla Hosting Reviews.
Why does Joomla Hosting Reviews exist?
We were tasked with creating a review site for a client and needed to learn what makes a great community review site. We had first hand experience with web hosting, so we started this site a testing ground to learn what makes review sites helpful and effective. Over the years Joomla Hosting Reviews has evolved to what it is now.
Are the reviews independent? or do they promote our hosting company?
The reviews are independent. We do not provide hosting services. We only review hosting services. We have managed hosting servers before and learned that it is much better (and cheaper) to purchase server space from a well known and established hosting company.
Where do we get the time and money to manage Joomla Hosting Reviews?
3 Ways:
We donate our own time and effort. We want to give the Joomla Community a place where they can read and leave honest reviews from their peers. We have set up a number of review websites and have managed hosting companies before. Joomla Hosting Reviews is a great blend of those skill sets and a good way to help out.
We use the site as testing ground for client ideas and projects. We make sure things work correctly clients so we test them here first. So this site is partly funded by our clients. Example: You may see a chat box on the right. A client was interested in adding chat to their site, so we are using Joomla Hosting reviews to test this feature out first. If the results are good our client will add it to his site.
We get credit from some hosting companies. This credit does not bias our reviews. Some of our top rated hosts do not give any credit and we still rank them highly. We allow users to leave their own reviews the user reviews are completely independent of the editor reviews. Hopefully between our editors expert opinion and the user reviews you can develop a good idea of the quality of the host. If you are not crazy aout this then you can type in the hosts name directly. We understand this possible appearance of a conflict of interest and try to be as upfront as possible. We appreciate it when you do use our links when purchasing hosting, it helps improve Joomla Hosting Reviews. It helps even more when you return to our site and leave a review of your experience with the hosting company.
Where do we host our sites?
We have hosting accounts at all the hosting companies with our editor reviews. Well if the hosting company gets a bad review or shows up on our Joomla Hosting Companies to avoid list then we do not host with them any more. Currently Joomla Hosting Reviews is being hosted at CloudAccess.net. Read our Cloud Access Review
Questions or Comments?
info [AT] joomlahostingreviews.com