Detailed Comparison
Both CloudAccess and Rochen are excellent hosting companies. Each provide business-class hosting for Joomla sites but they differ on a couple of features.
The main difference between CloudAccess and Rochen is how they provide and support Joomla. CloudAccess offers Joomla as a service meaning they install, manage and configure Joomla and then you add the images and content. Rochen is a traditional hosting company which provides the server space and you install, manage, and configure Joomla and then you add the images and content.
There are a few other differences such as pricing, the control panel and customer support options.
1. About The Companies
CloudAccess.net is a Joomla-As-A-Service hosting company. They have been around since 2008 and have carved out a niche in website hosting that focuses on expert Joomla server environments and tech support. Read the CloudAccess full Review
Rochen Hosting is over 12 years old was started in Scotland. They have maintained a consistent popularity as being a business hosting provider. They run the official Joomla.org website. Read the Rochen full Review
2. Feature Breakdown
| Features | CloudAccess | Rochen |
| --- | --- | --- |
| Price | $19.95/Month | $8.95/Month |
| Plan | Standard Joomla | Business Hosting |
| Storage | 20GB | 1GB |
| Bandwidth | 2,000GB | 50GB |
| Domains | 1 | 1 |
| Installer | Joomla Pre-Installer | Joomla Utilities, Fantastico |
| Coupons | N/A | Save 10%: DEAL |
3. Control Panel
The control panel gives website administrators access to important tools and applications that help their site run. All sites have some sort of control panel. Some are custom and some are prebuilt like cPanel.
CloudAccess Control Panel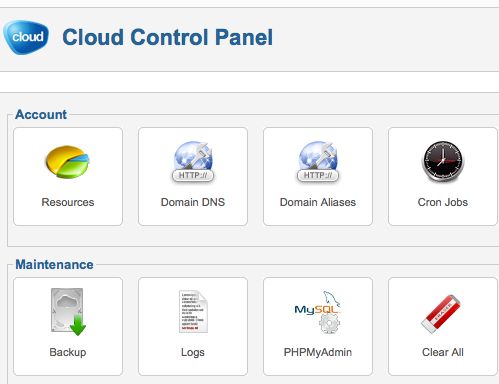 CloudAccess Control Panel inside of Joomla
CloudAccess does not use a traditional control panel like cPanel. They have a member support area where you can access your profile and account information. This is also used to buy new services and submite support tickets.
In order to use their control panel all you have to do is be logged into Joomla. Then you can access their features like Backup, Cron Jobs, and phpMyAdmin. They have utilized Akeeba Backup to make backups which are based on the secure servers at CloudAccess. There is little to no customization with their control panel. Setting up email isn't very straightfoward and you only get 1 database per Joomla install.
Rochen Control Panel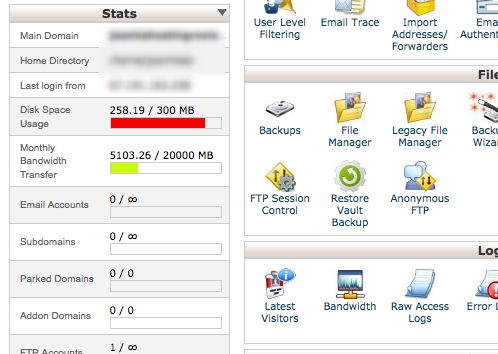 cPanel inside of Rochen website
If you have used cPanel before and really like it, then Rochen is a better choice. Though for us, we run pretty technical Joomla sites and have not needed to have access to a complex control panel. This would be for those who want LOTS of customizations.
You can install Joomla and everything you normally would, including Akeeba Backup to handle your backup.
4. Installing Joomla
The way you run Joomla at Rochen and CloudAccess is different. Rochen requires the user to install it and CloudAccess comes with Joomla preinstalled.
CloudAccess: Joomla is Preinstalled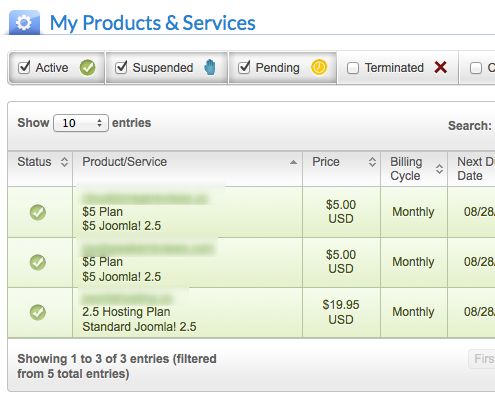 Current Joomla websites installed at CloudAccess
One of the most positive aspects of CloudAccess is that you never have to worry about installing Joomla. This is because they are built just for Joomla and ready for the newest releases as soon as they come available in a stable version. They will even help you install the template of your choice, whether it was made by them or a 3rd party.
Rochen: Install Using Their Joomla Utilities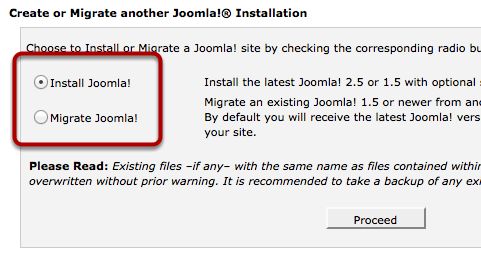 Install selection inside of Joomla Utilities at Rochen
At Rochen it is arguably just as easy to set up a new Joomla installation. Their Joomla utilities manages your Joomla installs. This is a pretty powerful tool and the only one of it's kind. Rochen built this tool to enhance their customers Joomla experience. We have used it to install several times and it is one of the best install tools out there.
The difference between the two companies at this point is the management side of the Joomla install. If something breaks do you want a normal technican to handle to problem or a Joomla expert technician to handle it? CloudAcces has a hand up on the competition here, read on.
5. Customer Support
Technical support between these two companies is pretty similar. Both use an effecient ticket system. CloudAccess has a phone support service and Rochen does not.
CloudAccess Customer Support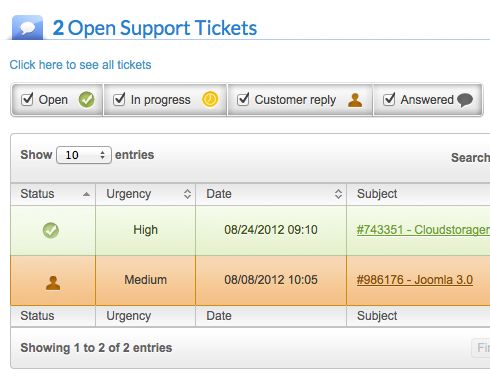 Filed support tickets with CloudAccess
There is really only one way to feel better when something bad happens on your site, talking to someone who can fix it. CloudAccess has a phone support so you can talk to someone right away about the problem. They also have a very sophisticated ticket system which is very easy to use. If you run into a basic issue, you can look it up in the member forum. We like dealing with CloudAccess because they will fix pretty much anything related to Joomla except 3rd party extensions.
Rochen Customer Support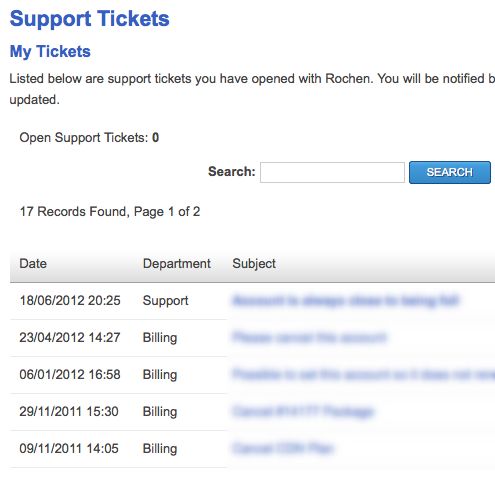 Support tickets filed at Rochen
Rochen Hosting is a little bit harder to get things solved. They move at a pretty good pace, but you don't get the satisfaction of talking to someone on the phone. It takes more time and patients to work through problems. We feel it's better to use a host like Rochen when you already know a good bit about websites.
6. Speed and Uptime
Response times using Pingdom
When it comes to speed both Rochen and CloudAccess are top of their game. The truth is, you get what you pay for. Neither is the least expensive option, but their servers run smooth with little to no downtime. We run very prominate sites on both of these hosts and they have been excellent at delivering speed.
*Response times are not based on the same exact site, displayed for overall speed potential demonstration only.
Conclusion
This is a toss up. Both are great companies with great services. Thankfully there some pretty basic destinctions between the two that should help you decide.
CloudAccess is managed Joomla hosting at its best. All you need to do is sign up and they install and manage the Joomla core for you. If you have an existing Joomla site they will import it and set it up free of charge.Their servers are fast, stable and secure creating an excellent envrinonment for you Joomla site.
I have to say that CloudAccess' tech support is clearly better than Rochens. CloudAccess provides phone and chat support where Rochen does not. In addition when you submit a CloudAccess support ticket you have the option to add your phone number so that the support staff can contact you to when the issue is resolved and to answer any questions you may have.
CloudAccess is more expensive but the money is well spent, the time you save dealing with server issues and tech support is well worth the expense. If you have hosting needs other than Joomla CloudAccess is not for you but if all you need is Joomla Hosting it is well worth setting up a free demo account.
Rochen servers can handle more all purpose hosting including Joomla. Should your hosting needs extend beyond Joomla then you have that option. You pay less than with CloudAccess, but you lose out on the managed Joomla features as well as phone support. With this being said Rochen is a strong Joomla hosting company that provides traditional cPanel hosting.