Joomla Hosting Reviews was able to talk with Sneji Gospodinova, Sales & Customer Service Manager from SiteGround about the benefits of hosting a Joomla website at SiteGround. We wanted to find out more about what SiteGround. How they were started, what their customer base is like and what kind of plans the ofter.
1. Tell us a little about the history of SiteGround. When and why was it established? What were the goals of the company when it first started?
SiteGround was founded back in 2004, by a small team of very creative and enthusiastic young people. Thanks to their hard work and commitment, SiteGround started growing fast. Today it is a leader at the webhosting market, a home of 250.000 websites worldwide. That was indeed our main goal.
We are all passionate about our job and our customers can feel it. We treat each customer with special care and it has always proved to pay back. We have delighted customers, who bring in more customers.
2. Can you tell us about the SiteGround Company Culture? How many employees? Where are they located? What is a typical day like?
The people at SiteGround are really special because they love what they do and what is even better - they love doing it together. We believe that our main asset is the commitment and devotion of all our team and the great spirit of cooperation between all the people.
We are not only professionals at the work stations, we also have fun and we are friends in real life too. That is how we treat our clients too - as part of our family. I can tell how a typical week starts- with a team breakfast on Mondays, ends with a management meeting on Fridays and mini social events like bowling, kart racing, skiing and night clubbing as often as possible in the weekends :)
We are all located in Europe (Bulgaria), where we have established several offices. We have servers on multiple locations- USA, Netherlands and just launched servers in Singapore too, so we can cover at maximum our worldwide clients' needs.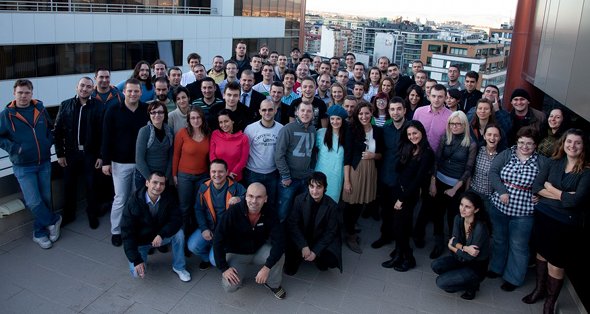 3. What steps are taken to ensure Joomla runs well on your servers?
We have worked with Joomla hand by hand since its creation. Joomla does not run well, it runs perfectly on our servers, with its full capability and performance. We provide an all inclusive Joomla hosting service. Two levels of unique Joomla protection: each Joomla installed by SiteGround has a built-in hacker protection, provided by our in-house developed Joomla extension jHackGuard.
On the other hand, the accounts on our servers are isolated from each other through a custom-made server setup, so even if there is one vulnerable installation, the other Joomla websites will be safe. Unlike the standard hosting companies, we truly understand Joomla and can provide real help.
Not only with the server related issues, but with Joomla related problems too. We also provide a whole set of special Joomla extras such as free Joomla installation, free transfer of existing Joomla website, professional help with upgrades, addons, security issues and many more.
4. How is SiteGround involved with the Joomla community?
We contribute with hundreds of Joomla tutorials, available not only for our clients, but to all Joomla users. We maintain a large gallery of free Joomla templates, downloaded by millions Joomla users worldwide. Two years ago, we started developing Joomla plug-ins too, like jHackGuard, jGeoIPFilter, jAutoUpdate and more.
We attend all the Joomla events, meet the community in person, discuss a variety of topics and we also contribute with sponsorship at J And Beyond, Joomla!Days Netherlands, CMS Expo. To sum up, we constantly spread the love about Joomla and provide numerous free resources to its users for their better and valuable experience.
5. SiteGround provides a range of hosting plans. Can you tell us a little about the plans? Is it possible for a company to start with a basic hosting plan and grow into larger plans?
SiteGround's main focus is the shared hosting and we have three plans built on the shared platform.
The first one is the standard shared hosting – it is our best seller and it is suitable for any start up website.
The next level is the shared PLUS plan – it is mainly for customers with multiple websites and is also used for upgrade when a little more CPU power is needed.
The most advanced plan we provide on a shared platform is our semi-dedicated offer. This is a service we are particularly proud of, as it provides better performance than most of the dedicated solutions on a fraction of their price. We achieve this performance by combining RAID, SSD and internally developed security and speed increasing systems.
Of course we do have cloud VPS and dedicated server services, as there are some cases, when a user needs highly customized setup, that cannot be provided on a shared server. So having that in mind, I can say that everyone can start a website on our standard shared plan and move easily up on any of the higher-end solutions depending on the website needs.
6. What sets SiteGround apart from the other hosting companies?
That is easy to summarize. SiteGround services go a way beyond the industry standards in terms of:
Server security and reliability: we do not use a standard server management software. We create custom server setup to address the major security challenges faced by the PHP/MySQL based applications.
Speed and uptime: CMS websites hosted by us load up to seven times faster than the industry average. We do not use the 99.9% uptime guarantee as a catchy marketing word, we actually mean it and achieve it.
Customer service and support: with us you will get real 24/7 issue resolution by real people who truly understand your problem and have the knowledge and expertise to fix it efficiently and quickly.
7. What is something people don't know about SiteGround?
People know everything about SiteGround. We always try to be as open and trustworthy as we can be. We have a strong presence in the social media as facebook and twitter for example, we maintain a company blog where you can even meet our team and see the faces behind the names.
We share all our business achievements and innovations as well as stories, pictures, team-buildings and all sorts of events publicly, so you all know everything about us :)
8. Any future plans you can tell us about?
In the near future, we will surprise our clients with a brand new user area, with more functionality, easy navigation and personalized look, all for an incredible customer experience. We will soon launch a new ticketing system, to ease our clients even more in case they need to get in contact with our support experts.
We are also in process of redesigning our in-house customer service chat software. Again, more personalized and friendly, to make our customers feel comfortable and at home. In the long run, I cannot tell. Let's keep something for the next time we meet! :)
9. Anything else you would like to add?
The Internet is a deep sea for any business. So jump into it and head out after the high tide by setting up your online presence.