Fantastico can be found in your Rochen cPanel interface. Use Fantastico to easily install Joomla in a few steps.
Fantastico will automatically create a database and database user for this installation. If you're looking to customize you Joomla databases, install Joomla using the standard method.
Watch the Video or follow the steps below:
" frameborder="0" width="560" height="344" allowfullscreen="true">
Before you begin, you will need:
A Rochen account (Sign up)
cPanel Username / Password
DNS configured (Domain name pointed to Rochen Server)
Step 1: Log into Rochen cPanel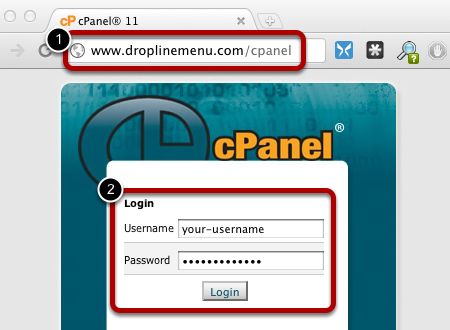 Go to http://www.YOURDOMAIN.com/cpanel or http://www.YOURDOMAIN.com:2082/
Enter your cPanel username and password.
*Note This information is available in the welcome email.
Step 2: Launch Fantastico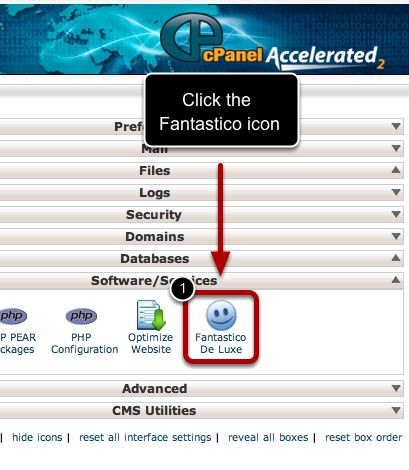 Click the 'Fantastico De Luxe' under 'Software/Services' smiley face icon, this will launch Fantastico
Step 3: Select version of Joomla to install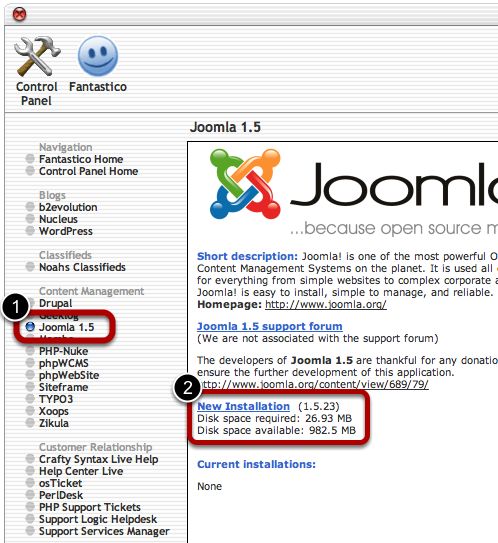 Select Joomla 1.5. At the time of creating this document, Joomla 1.5 was the latest version on Fantastico at Rochen. In the future you will want to get the latest version.
Click 'New Installation'.
Step 4: Enter the details of new Joomla site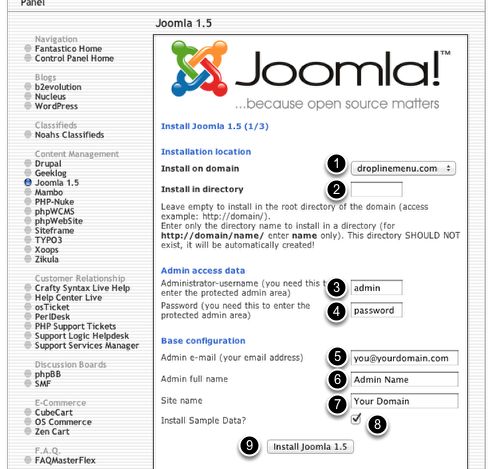 Select the desired domain name. Most likely you will only have one option.
Enter the website directory. Only necessary if you are not installing to your root directory.
Joomla Admin Username. This information will be used to login to Joomla.
Joomla Admin Password.
Base Configuration: Admin Email. The Admin's Email. The Email that a lost password goes to. This can be changed after install.
Base Configuration: Admin Name The name displayed when logged in as admin. This can be changed after install.
Base Configuration: Site Name. The name of your site. This can be changed after install.
Install Sample Data. Good if you are new to Joomla. Otherwise this step may cause you more problems than you want. It will populate Joomla with sample articles, modules, menu items, etc...
Click the install button
*Note - This install method step skips the Manual Install steps which include the License Agreement and Database Configuration.
Step 5: Finishing the installation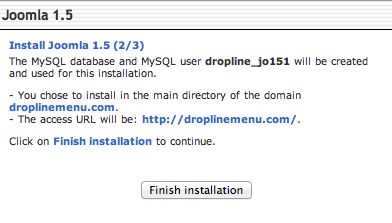 This screen reviews the information about to be installed onto your server.
Click, 'Finish Installation' after reviewing the information.
Step 6: Joomla Installation Summary Screen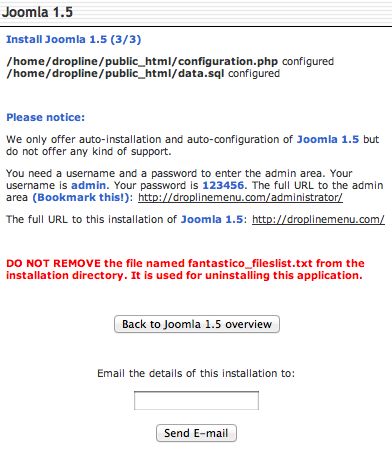 This screen shows you all of the data that was installed onto your server. Including some files that were configured to interface with your server and Joomla. It also shows you the Username and Password created.
Enter your email and click 'Send E-mail' to send yourself the information.
Step 7: Verify your new Joomla site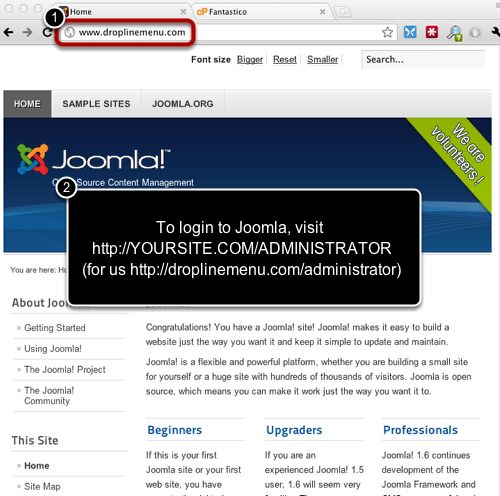 Visit 'YOURSITE.com' (For us, it is http://www.droplinemenu.com) to see make sure Joomla has installed successfully.
Login to Joomla by visiting http://yoursite.com/administrator.
Step 8: Your Done!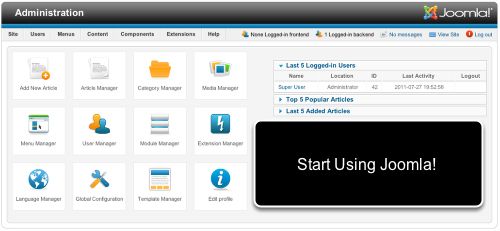 Start using Joomla. You can create articles, categories, menus and much more.
Other Rochen Joomla Install Methods